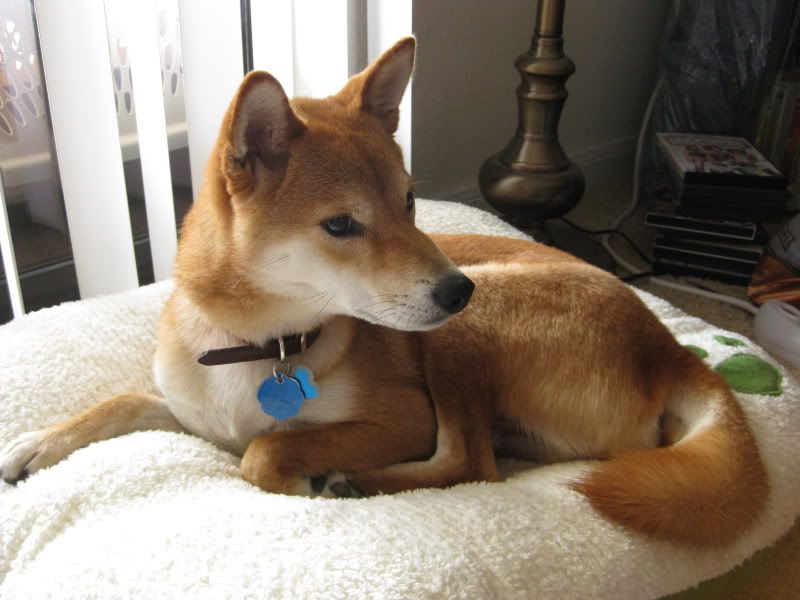 So I start this new blog and then don't post in it! I'm 50 kinds of lazy and only 25 kinds of forgetful. Here's hoping I can make this some sort of weekly thing to update. But here's what's been going on for the past, holy cow, two months:
We adopted a dog through the Texas Shiba Inu Rescue (sort of). I say sort of, since he didn't technically go through rescue, but we were contacted by rescue volunteers on this owner surrender. Koji is about a year and a half old, neutered, and unfortunately is already showing early signs for luxating patellas. He's been with us for about two months and is an absolute sweetheart and everything we expected him to be, if not just a little easy for a Shiba. No total horror stories as of yet, save my favorite sandals being killed by my own fault of leaving both him and them out together late at night.
Next, hubby and I celebrated our first year of marriage with old cake and leftover champagne.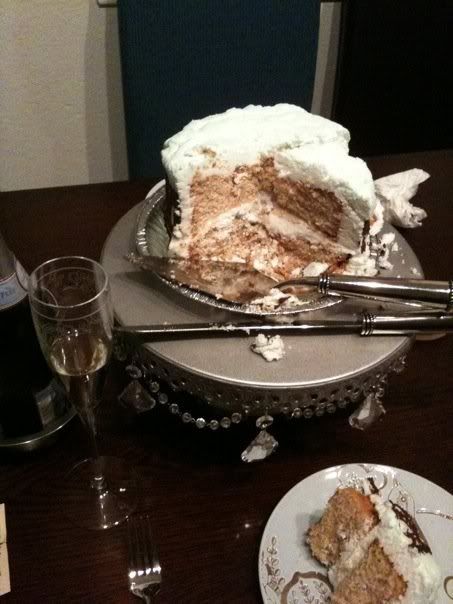 The cake was alright, if not just a tiny bit dry, and the almond flavoring was becoming overpowering after a few days, but not bad. Champagne was still excellent. We gave each other old magazines from WWII (paper anniversary, afterall) and Jeff bought me new computer speakers while I promised I'd get his old Royal typewriter fixed in working condition.
Texas State Fair!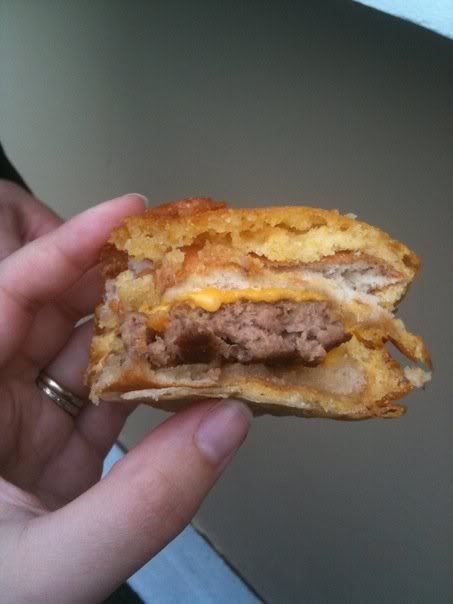 Went to the "Fried Food Capital of Texas" and had a great time. Tried Fried Butter, had my Chocolate Covered Strawberry Waffle Ball, sat in a few cars, tried a new beer, and witnessed history in the making when we had the fine people at Flecher's Corny Dogs deep fry a cheeseburger. It was damn tasty (and the people there rocked our socks off!). Truly a great day which ended with taco soup at the in-laws.
Made a Halloween exchange box for some friends on the Dogster Shiba Inu forum with homemade treats inside.
Also made a bed, a decorated treat jar, and a toy for the
Midwest Shiba Inu Rescue
's Halloween auction. Should go up on eBay on the 25th.
Tried going to Barktoberfest, but ended up getting rained out, so Koji and Dug had fun messing around at a nearby dog park (thanks to Nicole!). Ended up going to a last minute meetup that benefitted a local no-kill shelter here Carrollton/Addison way called
Operation Kindess
. Won an XXL shirt from a raffle, ate food at an English pub, got some awesome free water bottles and showed off Koji's costume:
The back actually has Zero's likeness from Nightmare Before Christmas ala original Ghostbusters logo. We didn't win, but had lots of positive comments about it. Yuki-san and Jiro (shiba buddies) were also there as Bolt and a fire dog, respectively. They looked pretty amazing, too.
Now that we're up to speed, it's time to get cracking on more things. Making an Other Mother Coraline doll for my oldest niece for Halloween, going to try and make something special (Tinkerbell?) for second oldest niece, clean, make an awesome Katamari for a contest, and wait for Koji's custom leash and collar to get finished. Been keeping busy, but it's nice to just slow down and enjoy a great clear day like today in Dallas, low 70s, cool breeze, warm sun. Mmm, just like California.